CREATIVE ZONE CONNECTS YOUR COMPANY TO OUR CUSTOMERS
CREATIVE ZONE brings together like-minded SME entrepreneurs through our interactive networking events at prime locations around Dubai.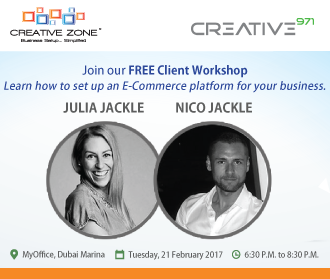 E-Commerce for SMEs
The fastest growing consumer trend in the world today is shopping online. Take advantage of this global movement and launch an e-commerce platform to trade products and market your brand.
With more than 8.5 million residents or 91.9% of the population accessing the Internet, e-Commerce is the fastest growing business sector in the United Arab Emirates. Globally, more than 80% of Internet users made a purchase online in the last 12 months.
---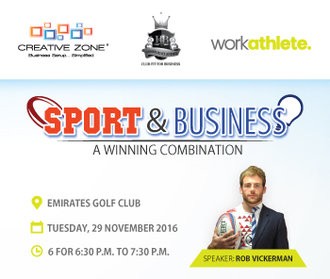 Sport and Business - A Winning Combination
Building a great team is one of the hardest concepts in business. Maintaining, developing and motivating the team is a different task completely. Using a rare combination of leadership, positive psychology and international sporting experiences, Rob Vickerman runs an interactive workshop taking you through how teamwork can be individually understood.
Join us for an exclusive opportunity to meet ex-English Rugby Sevens Captain Rob Vickerman who will share his expertise and insights. A great 'kick off' to the Emirates Dubai Rugby Sevens - not to be missed.
---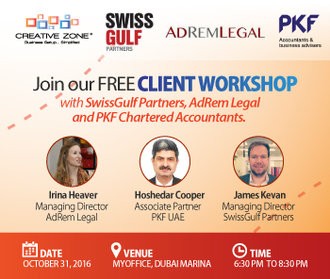 Legal, Accounting and Employment matters for Entrepreneurs
This is an essential workshop for Startups and SMEs to learn the essential business fundamentals to implement early to save headaches in the long term. Our Speakers who have years of combined experience across Recruitment/HR, Legal and Accounting sectors will share their knowledge and a number of free templates with attendees.
---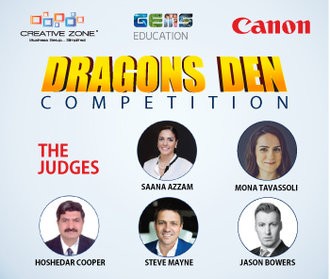 Dragons' Den Competition
The Dragons' Den, where aspiring young people pitch their business concepts and products to a panel of UAE experts. It takes teamwork, creativity, perseverance and many other qualities to persuade members of the panel to endorse a potentially feasible entrepreneurial project.
This activity is meant to help young people come up with innovative ideas for projects that can impact their school, their community and themselves in a positive way.
---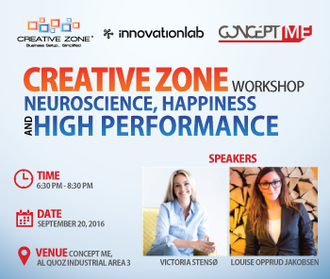 NeuroScience, Happiness and High performance workshop
This 2-hour introductory tour de force, is essential for companies wishing to innovate and raise team productivity.
Did you know that when your brain is happy, you are 31% more productive, 3x as creative, have 180% more energy and are far more resilient? It is not such a mystery why the world's most successful companies including Facebook, Google, Pixar, Dropbox and many more - view happiness and the development of the personal mindset, as the most important x-factors for innovation, creativity and performance in the 21st century.
On September 20th, Innovation Lab – Scandinavia's oldest innovation think tank, will kickstart a series of workshops that culminates in a diploma course that you can partake in 2016 and 2017. Innovation Lab will share their experience in this field, including their work with International clients - and collaboration with Stanford University.
---