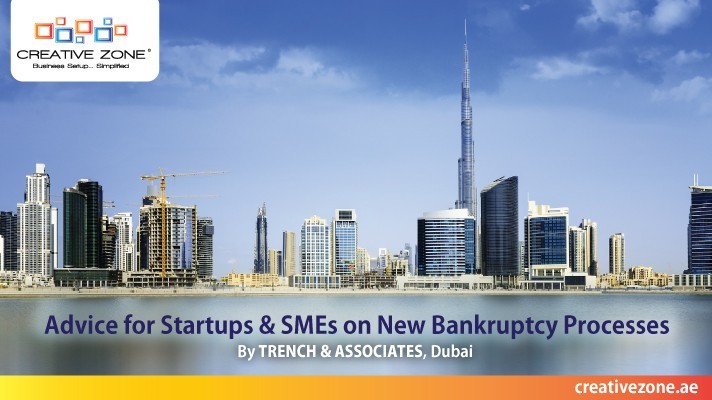 May 30, 2017
The new UAE Bankruptcy Law (Federal Decree Law 9 of 2016) provides a legal framework to help distressed companies in the UAE.  Seeking expert legal advice is key in taking advantage of the provisions offered in the New Law.   
Trench & Associates (T&A), established Dubai legal consultants, urge companies and individuals to seek expert legal advice in order to take full advantage of the opportunities offered by the new Bankruptcy Law (Federal Decree Law No. 9 of 2016). 
The New Law (the "Bankruptcy Law") came into effect in December 2016 and focuses on restructuring and protective composition procedures. This differs from the previous regime which concentrated on creditor protections and formal bankruptcy proceedings alongside criminal penalties.
The law sets out to boost economic confidence by bolstering the legal sustainability and attractiveness of the investment environment across the UAE.  Its aims to create a robust legal insolvency framework which offers more favourable pathways for financially-at-risk companies.
Nonetheless, as with any major legislative change, there will be an initial period of uncertainty while new laws are tried and tested. It is therefore prudent to seek expert legal advice in order to understand and take full advantage of the provisions laid out in the New Law. 
Commenting Cynthia Trench, Principal of Dubai legal consultancy Trench & Associates, said:
"Trench & Associates welcome the New Law as it offers positive steps which will improve the business climate and boost the economy. It is especially positive for companies in financial distress as it allows them to restructure, pay their debts and avoid bankruptcy. Seeking expert professional legal advice is therefore wise in order to take advantage of the options made available in this comprehensive legal framework."
Cynthia Trench has an impressive 27-year track record in the region and deliver unrivalled knowledge of the Bankruptcy Law in Dubai offering individuals and companies unrivalled expert advice and guidance.
For informed legal advice in corporate insolvency and the new bankruptcy law, please contact ct@trenchlaw.com or +9714 3553146
TRENCH & ASSOCIATES
 
 

T&A are renowned for their record of setting legal benchmarks in the region and offer unrivalled knowledge into the New Law. They are are established Dubai legal consultants who are experts in Succession Planning, DIFC Wills, Corporate Restructuring, Property Transactions, and Litigation and Arbitration. Licensed since 1996 from the Rulers Office of the Government of Dubai, the firm continues to offer strategic advice and excels in its knowledge of local laws.

 

Cynthia Trench, Principal of Dubai legal consultancy Trench & Associate

 
CREATIVE ZONE is a team of company formation specialists who are a respected leader in the UAE business setup industry. Having successfully setup over 5,000 companies since their inception in 2010, CREATIVE ZONE understands and appreciates the challenges and concerns people are faced with when trying to incorporate a new company in a foreign country. CREATIVE ZONE not only specialize in the handling and processing of all company documentation (everything from trade licenses to residency visas) but they also provide a business support platform of the highest caliber to their clients, helping them start their businesses off on the right foot. CREATIVE ZONE's expertise lies in the establishment of Free Zone, Dubai LLC & Offshore companies which in turn, allows entrepreneurs and start-up companies to focus on what's most important; starting their business and making it a success!