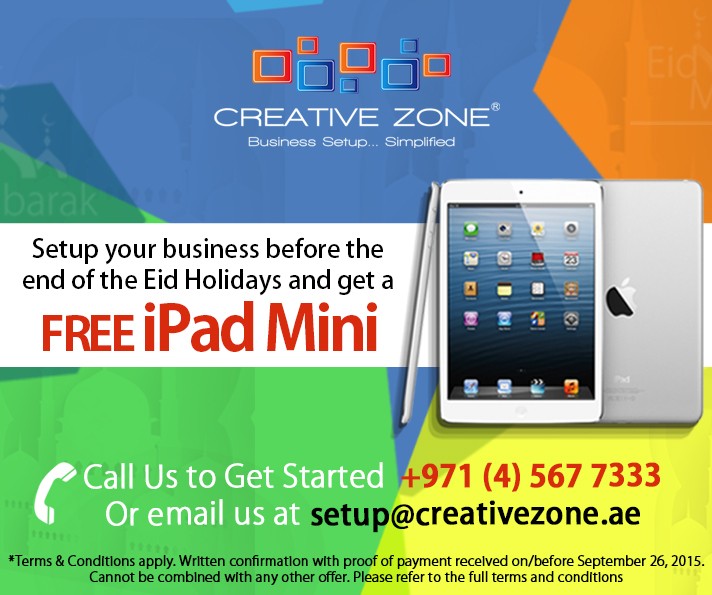 September 21, 2015
Terms and Conditions
1. iPad mini offer excludes offshore setups, Fujairah Company only and monthly payment packages.
2. Company setup confirmation and bank transfer receipt must be received by email no later than midnight 26, September 2015. Offer will not be extended after this time.
3. This offer may not be used in conjunction with any other promotions or discounts and is not applied to contracts lodged prior to 17, September 2015.
4. Please confirm your booking by email setup@creativezone.ae or contact your Business Setup Advisor.
Take your own first small step and contact the business setup specialists at CREATIVE ZONE for more information on how to set up a business: +971 4 567 7333 or email setup@creativezone.ae
CREATIVE ZONE is a team of company formation specialists who are a respected leader in the UAE business setup industry. Having successfully setup over 5,000 companies since their inception in 2010, CREATIVE ZONE understands and appreciates the challenges and concerns people are faced with when trying to incorporate a new company in a foreign country. CREATIVE ZONE not only specialize in the handling and processing of all company documentation (everything from trade licenses to residency visas) but they also provide a business support platform of the highest caliber to their clients, helping them start their businesses off on the right foot. CREATIVE ZONE's expertise lies in the establishment of Free Zone, Dubai LLC & Offshore companies which in turn, allows entrepreneurs and start-up companies to focus on what's most important; starting their business and making it a success!