CREATIVE ZONE CONNECTS YOUR COMPANY TO OUR CUSTOMERS
CREATIVE ZONE brings together like-minded SME entrepreneurs through our interactive networking events at prime locations around Dubai.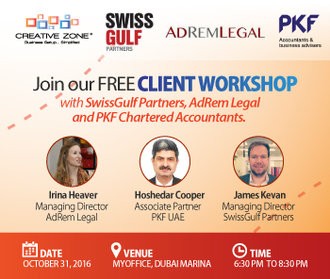 Legal, Accounting and Employment matters for Entrepreneurs
This is an essential workshop for Startups and SMEs to learn the essential business fundamentals to implement early to save headaches in the long term. Our Speakers who have years of combined experience across Recruitment/HR, Legal and Accounting sectors will share their knowledge and a number of free templates with attendees.
---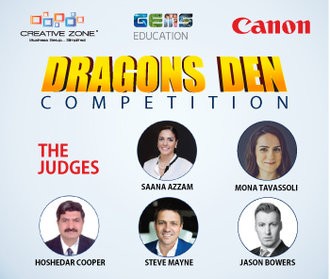 Dragons' Den Competition
The Dragons' Den, where aspiring young people pitch their business concepts and products to a panel of UAE experts. It takes teamwork, creativity, perseverance and many other qualities to persuade members of the panel to endorse a potentially feasible entrepreneurial project.
This activity is meant to help young people come up with innovative ideas for projects that can impact their school, their community and themselves in a positive way.
---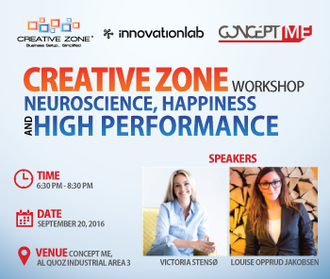 NeuroScience, Happiness and High performance workshop
This 2-hour introductory tour de force, is essential for companies wishing to innovate and raise team productivity.
Did you know that when your brain is happy, you are 31% more productive, 3x as creative, have 180% more energy and are far more resilient? It is not such a mystery why the world's most successful companies including Facebook, Google, Pixar, Dropbox and many more - view happiness and the development of the personal mindset, as the most important x-factors for innovation, creativity and performance in the 21st century.
On September 20th, Innovation Lab – Scandinavia's oldest innovation think tank, will kickstart a series of workshops that culminates in a diploma course that you can partake in 2016 and 2017. Innovation Lab will share their experience in this field, including their work with International clients - and collaboration with Stanford University.
---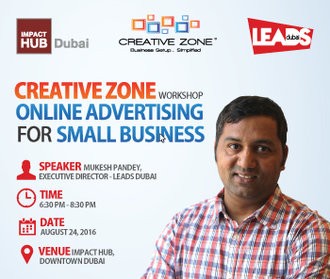 Online Advertising for Small Business
Part of our Mission at CREATIVE ZONE is to provide a business networking platform to help our clients launch and grow their new business, and a support infrastructure to guide them through the challenges they may face along the way.
In this increasingly competitive and digitised world it is difficult for SMEs to know with surety what platform will produce the best results for their business. Mukesh Pandey, founder of Leads Dubai (a CREATIVE ZONE client) shares his expertise on SEO, SEM, Social Media and more. Mukesh will also provide a number of free tools that you can utilise right now in your business.
In addition, our event partner Impact Hub has an exclusive offer; attendees will receive a FREE full day pass to Impact Hub. To access this exclusive offer please register ASAP.
**A nominal fee of AED 49 applies for each additional guest or non-CREATIVE ZONE clients.
---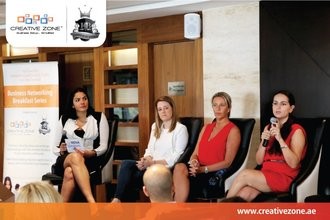 ---