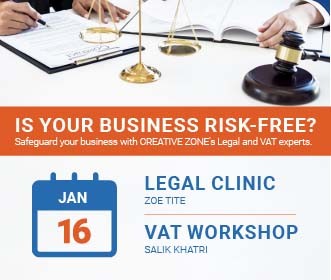 December 13, 2018
Are you a startup looking to safeguard your business?
CREATIVE ZONE is offering a free Legal Clinic to provide you with general guidance and input on how to protect your business from potential risks. Book an appointment with Zoe Tite of Tite Legal Consultancy for an informal free 15-minute consultation.*
Join our monthly VAT workshop to access the knowledge you need to ensure your business is compliant. Find out the latest updates on managing VAT, safeguard your business from possible penalties and build stronger financial record management to help your business grow.